Marco Fontana
1849-1922
The Cannery
Son of a marble cutter, Marco Fontana was born in Genoa, Italy in 1849 and at the age of 11, his family migrated to New York City. In 1867, he left New York alone and tried his luck in the mines of California. Quickly disillusioned, he moved to San Francisco where he became a fruit broker and shipper. At 31, with his own limited resources, Fontana tried to move into canning twice, and both ventures failed. 
But Fontana was more daring than most of his fellow fruit commissioners. He realized that the local market was limited and that the largest markets were on the East Coast. However, shipping fresh produce was expensive and to compete in the national market, he needed to supply fruits year-round even during the winter months. Canning was the solution. 
Finally, in 1891, he secured capital for a third cannery operating under the name of M. J. Fontana and Company.
In 1899, Fontana merged his cannery into the California Fruit Canners Association (CFCA) in which he served as general superintendent. M.J. Fontana and Company was one of 18 canneries that were consolidated as part of this merger. 
During the 1906 earthquake and fire of San Francisco, several of the plant facilities owned by the CFCA were destroyed. That same year, the company gained ownership of a cleared lot on the corner of what are now Leavenworth and Beach Streets, in order to build a new cannery and warehouse. It is said that the very bricks that were used to rebuild the cannery were salvaged from the rubbles of the 1906 earthquake.
This new waterfront location was perfect for the new fruit and vegetable canning plant.  The location provided berthing for ships, a rail system for bringing fruit and other produce directly from California's fertile agricultural valleys, and a convenient way to ship finished cargo on ocean-bound vessels.
After male workers delivered full lugs of peaches to the preparation tables, women removed the pits with spoon-shaped knives and cut each peach in half. The halves were then taken to the peeling department before canning.
Containers were then filled with peaches through a hole in the lid, which was then plugged with a metal disk and sealed by hand with a solder.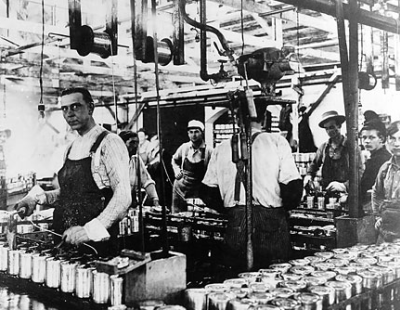 By 1913, the CFCA was the largest fruit and vegetable canning plant in the world, producing over 200,000 hand-soldered cans per day and employing 2,500 people. More than 1,000 workers were Italian. They eventually changed their name to "Del Monte" and then merged again to form the California Packing Corporation, where Fontana became director and chairman. He was also a director of the Italian-American Bank, California Wine Association, and president of the Italian Swiss Colony before he died in 1922. According to SF City Guides, the Fontana Towers behind Ghirardelli Square were named after him.
As a result of The Great Depression, The Cannery ceased production in 1937 and became a warehouse for various companies until the 1960s, when it was doomed to undergo demolition.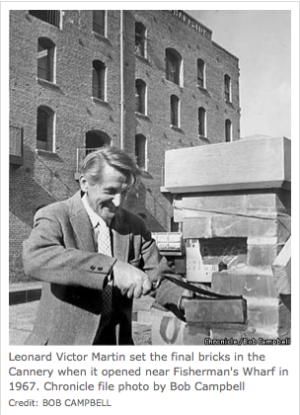 Leonard Martin heroically saved the brick-walled cannery by purchasing it in 1963.  His reason for purchasing The Cannery was first to "save the historic structure from the wrecker's ball and, second, to preserve this landmark, not as a static monument but as 'a place for people to detach themselves from everyday hustle and bustle, in an environment reminiscent of the romantic marketplaces of Europe.'
In an effort to preserve what was left of the original cannery, Martin enlisted a remarkable team of legendary creative and technical professionals to restore the abandoned cannery into a three-level walled city of brick walkways and bridges that would become a hub of fine stores, restaurants and entertainment venues.
One of the major decisions was to split the massive factory into two buildings, divided by a zigzagging corridor open to the sky.  For preservation purposes, all of the outside walls except those in the central corridor are from the original cannery and packing plant.  Magnolia and pear trees are planted in the central corridor, while the 75-foot wide courtyard is dotted with 20-foot high olive trees, over 130 years old.  These beautiful trees are from an old grove near Marysville, California.
The Present Cannery Courtyard
"In The Cannery, we have balconies, open arcades, outdoor escalators, broad and open stairs, and a dramatic outdoor glass elevator. We wanted to retain the rich, exciting feeling of a colorful marketplace," stated The Cannery's architect Joseph Esherick.  The beautiful new cannery opened in 1967.   It is now a place for people to sit and relax in the sun, amid flower carts and sidewalk cafes.
San Francisco's street musicians and entertainers perform in the courtyard, and special events are often scheduled, always free to the public.
1970 - Present.
Thanks in part to Leonard Martin, The Cannery received an Honor Award in 1970 from the American Institute of Architects and, along with Ghiradelli Square, spurred a national movement to recycle older buildings and influenced tax legislation to preserve them. In 2011, the Academy of Art University bought The Cannery building. 
Sourced from: