Hop on and off at your leisure for a full-day tour of the City 
Fisherman's Wharf is one of the top tourist destinations in San Francisco, with restaurants on practically every corner. It is often busy, but if you walk past the tchotchke shops on Jefferson Street, past the whirs and clangs of the vintage penny arcade at the Musée Mécanique, you will find a quintessential San Francisco experience…Big Bus Tours Fisherman's Wharf at 99 Jefferson Street.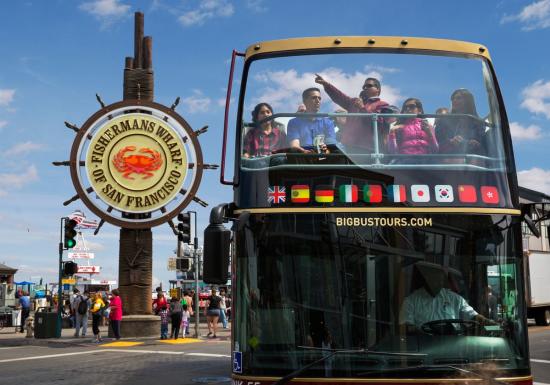 One of the standout features of Big Bus is the bus itself---an open-air double-decker that flaunts unobstructed views of the city, and a lower deck for those seeking cover. With 16 key points of interest and two routes to choose from, including crossing the Golden Gate Bridge, Big Bus offers breathtaking views of iconic neighborhoods such as Fisherman's Wharf, North Beach, Chinatown, Union Square, the Financial District, Civic Center, Haight & Ashbury, and the Presidio. 
So, what can you expect to see on this tour? For starters, front-row seats to all the famous waterfront landmarks: the historic Ferry Building, Pier 43 Ferry Arch, the Powell/Mason cable car turnaround, and of course, the infamous Alcatraz Island and the Golden Gate Bridge. And don't forget about the sea lions at PIER 39, who are always ready to put on a show. 
Riding on a Big Bus isn't just about sitting back and enjoying the ride – it's a golden opportunity to soak up some serious knowledge and get the local scoop on all the hotspots! From famous landmarks to hidden gems, this sightseeing excursion will stimulate the senses. So, settle in, unwind, layer up, and brace yourself for a mind-blowing experience! 
The tour begins with a ride down Jefferson Street, the bustling "main street" of Fisherman's Wharf. One of the first notable sights you'll see is the iconic Fisherman's Wharf sign, which has proudly stood since its installation in 1963. It's worth mentioning that many of the original fishermen in this area moved here from Italy, resulting in Italian-named restaurants that infuse the City's diverse cultural blend with a touch of European charm.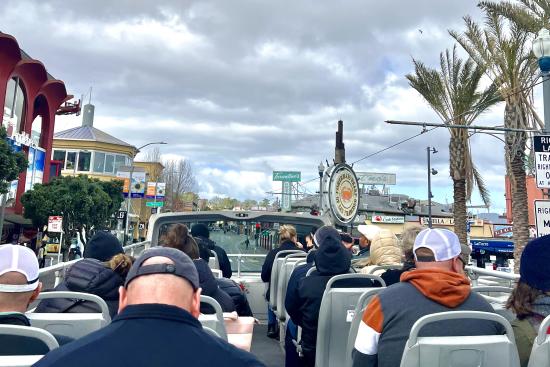 As the tour bus winds down Columbus Street, the vibrant atmosphere of North Beach, San Francisco's celebrated Italian district, engulfs you with a tapestry of Victorian-style buildings. The narrow, bustling streets lined with charming cafes, inviting trattorias, and cozy bookshops blend to create an ambiance that feels both lively and intimate. 
Should you choose to hop off the sightseeing tour in North Beach and embark on an uphill stroll, you will eventually reach Lombard Street, internationally acclaimed as the "crookedest street in the world." Descending the hill, a picturesque sight awaits you at Washington Square Park, an enchanting green oasis adorned with the striking spires of Saint Peter and Paul Church.
In the mood for lunch or for more exercise and exploration? Continue your journey from North Beach to Chinatown on foot. Along the way, you'll encounter a delightful blend of cultures and traditions. Ultimately, reaching the base of the Transamerica Pyramid, an impressive 48-story building completed in 1972. This architectural marvel stands in contrast to the older Victorian buildings and serves as a captivating focal point against the backdrop of newer and taller skyscrapers. 
Hop back on the bus in the Financial District because next stop is Union Square, the heart of San Francisco's shopping, theatre, and hotel district. Gazing up at the Westin Hotel, this area is centered around a large public plaza with stylish hotels, high-end department stores, and shopping malls. The Square is a bustling hub of activity in the city and an excellent place to use as a base for your shopping explorations.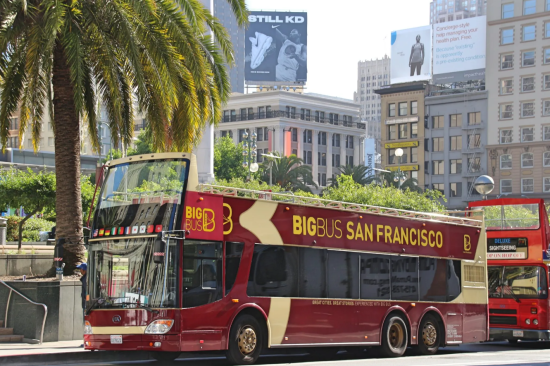 For a drink with a breathtaking view, head to the Marriott Marquis and make your way to the View Lounge, which offers incredible panoramic views of the city from a high vantage point. Sunsets are truly unforgettable. 
To continue the adventure, simply hop back on Big Bus for a short journey down Market Street, where a captivating sight awaits you: the iconic street cars (not to be confused with cable cars), each one carrying a story of its original city. Along the way, be sure to keep a look out for two historic theaters: The Warfield and the Golden Gate Theater. 

As Big Bus wiggles onto Larkin Street, get ready for Civic Center, a cultural and governmental hub and the proud abode of San Francisco City Hall, a Beaux-Arts-style building and a center of civic pride. At a staggering height of 307 feet, its majestic dome holds the title of the tallest in the United States. 
Find yourself in hippie heaven, because next stop is Haight Ashbury with a history that is almost as colorful as the houses that line its streets. Duck into one of the many unusual shops to pick up bohemian staples like tie-dye t-shirts or put flowers in your hair and hang out in Golden Gate Park. Big Bus passes right through the spiritual home of hippiedom, so be sure to hop off and wander the streets where an entire counterculture was born.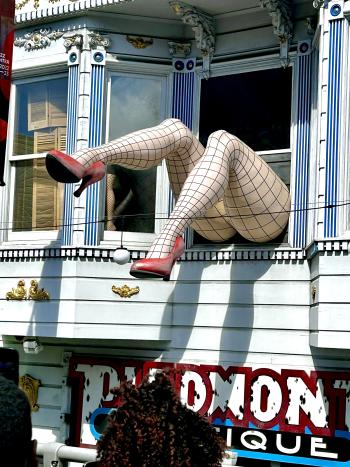 Tucked between a grocery chain and a bougie toy store, near the corner of Haight and Ashbury, is a bright red three-story property— the "Jimi Hendrix Red House," where Hendrix lived "for a few years in the 1960s," according to a post on the San Francisco Travel Association's blog. 
Dance like a hippie, with flowers in your hair, because next up is Golden Gate Park, which became famous during the Summer of Love in 1967. It stretches about 3 miles in length and spans approximately half a mile. The creation of Golden Gate Park was a remarkable feat that transformed barren sand dunes into a lush and thriving green space. The area where the park now stands was originally known as the "Outside Lands," a desolate expanse of shifting sand dunes that were considered inhospitable and unsuitable for development. 75,000 trees, shrubs, and plants were meticulously planted by hand, creating a treasure trove of woodlands, secluded lakes and grassy meadows like renowned Hippie Hill. Got green fingers? Then you'll love the Conservatory of Flowers, built in 1879 and the Japanese Tea Garden, a 4-acre refuge of traditional oriental architecture and bamboo groves. 
Take a rowing boat out on Stow Lake. Feed your mind with knowledge at the California Academy of Sciences or check out contemporary art at the de Young museum. 
Next up is the Presidio, a 1,500-acre national park near the Golden Gate Bridge. A former military installation, the Presidio now boasts hundreds of restored and renovated buildings, walking trails, an unmatched view of the Golden Gate bridge, and a golf course. 
Prepare yourself, and bundle up from head to toe, before venturing into the next leg of your Big Bus tour. The journey ahead promises to leave you breathless, quite literally, as the Pacific's chilly gusts make their presence known. However, as you lock eyes with San Francisco's iron giant and behold the majestic city skyline, any discomfort is forgotten. Gaze out at the sparkling waters below, with Alcatraz nestled in the distance, and the sprawling vistas of Oakland and Berkeley on the horizon. 
Hop off to take the obligatory bridge-backed selfies from the viewpoints on either side. Marvel at the engineering masterpiece of Golden Gate and drink in one of the best city vistas on the planet. Conveniently hop back onboard to traverse the bridge once again. For the brave souls who dare to face the elements head-on, the top deck awaits. But fear not, my chilly friends! If you prefer to enjoy the view while staying cozy and snug, the bottom deck welcomes you with open arms. 
As Big Bus makes its way back to Fisherman's Wharf, the irresistible aroma of chocolate fills the air journeying past Ghirardelli Square and onto Bay Street, before reaching it's final destination at PIER 39. 
When it comes to wining and dining in the evenings, you'll find an abundance of options in the area. Make sure to check out Hard Rock Café, Blue Mermaid, Crab House, or Cioppino's. The Buena Vista Café is another great spot to visit for a delicious meal and an Irish Coffee. 
And if you're looking for the best breakfast in Fisherman's Wharf, make sure to stop by Café de Casa, Eight AM Café, and Darren's Cafe. However, be warned that these quaint breakfast joints close at 2 PM and are so popular that people often queue down the street for a table.