the fishermen's and seamen's memorial chapel
A Memorial to Generations of Fishermen and Seamen Lost at Sea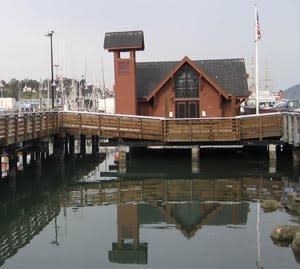 Hidden in plain sight just a few steps off the main thoroughfare is a little known Fisherman's Wharf landmark -- The Fishermen's and Seamen's Memorial Chapel, a touching tribute to the generations of San Franciscans who have dedicated their lives to the sea.
A simple, but elegant wood-framed structure located across from Pier 45 overlooking the fishing boat basin, the chapel stands as a memorial to the fishermen (women) and seamen who have braved cold waves, blinding fog and howling winds. It was built between 1978 and 1981 on the former site of an old Coast Guard building.
Plaques bearing the names of countless men and women who have died at sea grace the chapel's walls. Flags and banners from diverse religions hang from its vaulted ceiling. A peaceful solemnity greets visitors who chance to come by when its doors are open, finding a sanctuary to sit, rest, and contemplate the rich history of Fisherman's Wharf.  Currently, the chapel is open to the public on Saturdays from 11:00 a.m. to 1:00 p.m.
Sitting inside an 11-acre inner lagoon that has remained virtually unchanged for the past century, the chapel's most prominent feature is a campanile that houses a bell that was crafted in 1860, and which is still rung on very special occasions. The campanile also features a carillon that can ring out 1,200 different melodies.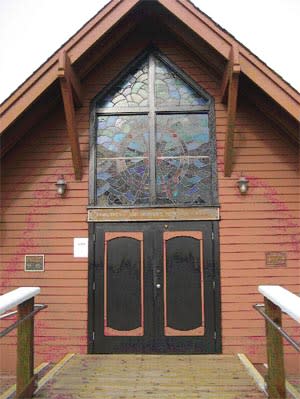 One of the chapel's most beautiful features is a stained glass window that was donated by the Women's Propeller Club.
Offering a welcome respite to the Wharf's working fishermen (women) and visiting tourists alike, the chapel is home base for the Madonna del Lume Celebration and the Blessing of the Fleet, an age-old fishermen's tradition that takes place on the first Saturday of October.
The Memorial Needs Your Help
Please help the Fisherman's Wharf Merchants Association continue the restoration and maintenance of this local landmark through a donation to the Fishermen's and Seamen's Memorial Chapel Fund.
Donations can be mailed to:
Fishermen's & Seamen's Memorial Fund
c/o Fisherman's Wharf Merchants Association
47 Pier, Suite 2, San Francisco, CA 94133
*For more information, contact (415) 674-7503.