Pier Party at the Wharf
Come rock the dock at the ultimate outdoor summer concert series set in the heart of San Francisco's Fisherman's Wharf.
This production is set to bring an exceptional lineup of local artists from the soulful melodies of Sam Johnson to the captivating performances by 11 time Grammy Award winner Tony Lindsay from Santana, The Unauthorized Rolling Stones, August Stevens, DJ QBert and the Fresh Crew, Lea Sweet, Danilo y Orquesta, Orquesta Bembe, and many other musical acts, live on stage at the iconic Fisherman's Wharf Crab Wheel Plaza located at 2820 Taylor Street.
The free performances will take place every Friday and Saturday from 2–6 PM until September 30th.
Along with the weekly rotation of guest performers, Fisherman's Wharf in collaboration with the Port of San Francisco is kicking things up a notch with signature drinks, cocktails, beer and wine.
Salsa September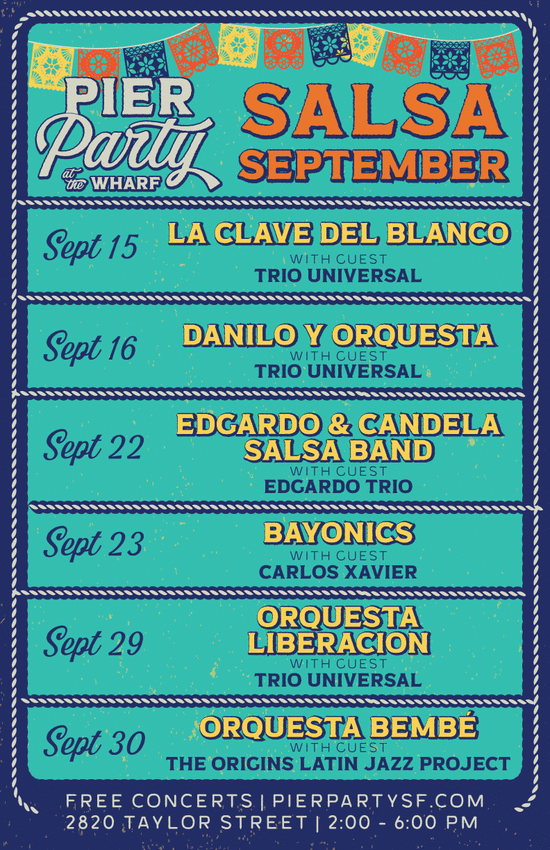 Set against the backdrop of the iconic Crab Wheel Plaza, Pier Party at the Wharf is family friendly and free to the public. So mark your calendars and make your way to Fisherman's Wharf for an unforgettable afternoon of music.
Looking for some grub after you've spent the afternoon at Pier Party? Spend the evening dining at a nearby restaurant!