airport info
The Bay Area is home to 3 International Airports (San Francisco, Oakland and San Jose.)
San Francisco Airport (SFO) is about 16 miles south of the Fisherman's Wharf.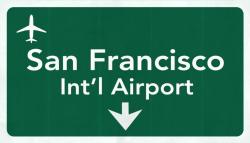 There are 5 popular options for travel to Fisherman's Wharf:
Car Rental
Taxi or Limo
BART (and Taxi or F-Line)
Airport Shuttle
Smartphone rideshare car services such as Uber and Lyft
The major car rental companies all have counters a short AirTrain ride away from the Terminals.  A Map of SFO has details. One can rent from Hertz, Avis, Budget, Alamo, Enterprise, National, or other chains such as Dollar and Thrfty.   Parking at Fisherman's Wharf hotels can average $50 per night.  A car is not advised in San Francisco.
Travel Time to Fisherman's Wharf:  Average time is 30 – 45 minutes during light or moderate traffic. It can take up to an hour during rush hour, with stop-and-go traffic on the Embarcadero . The Rental Car Center is approximately a mile North of the Airport and here are the Google map directions.
San Francisco Taxis are available at the Taxi Stands (marked with a yellow TAXI sign painted on the wall) in the arrivals level of each Terminal. There is a taxi dispatcher to assist should one have questions. Most taxi are small hybrids. Two or three can fit comfortably, but with 4 people and bags, it may be hard to fit in a regular taxi.  A few vans are available and the visitor should request one from the taxi dispatcher.  A taxi to Fisherman's Wharf, or any part of San Francisco, is metered.  The average cost is around $50 – $55 plus tip. 
A limo or a car service can be rented beforehand and the typical charge is between $57 and $60 for curbside pick up. There is an additional charge should one need the limo driver to wait with a sign in the arrivals area. 
Children requiring car seats should be in a car seat in taxis. Taxis DO NOT provide seats. Some limo companies will rent car seats for an extra fee.  It may be easier to book a private Shuttle for $75 to $80 and take kids as they will provide car seats.
Taxis and limos are available 24 hours a day and would be the recommended mode of transport late night or after arriving on International flights from Europe, Asia or South America.
Travel Time to Fisherman's Wharf:  Average time is 30 – 45 minutes during light or moderate traffic. It can take up to one hour during rush-hour and stop-and-go traffic on the Embarcadero.   
Here is a map of the Taxi Stands in the city of San Francisco.
BART or Bay Area Rapid Transit has trains that leave the SF International terminal. BART tickets are available through automated machines at the SFO BART Terminal.  Each adult ticket as of Jan 2014 is $8.65, and children and seniors can purchase a discount ticket for $9 which allows for up to $24 worth of travel.  BART travel is metered and the price varies based on the distance traveled. Discount tickets for Adults 65 and over and Children 5-12 are available at the SFO Information Desk and NOT at the BART ticket kiosks. Details here about the BART Green and Red Ticket:
Take BART to the Embarcadero Station. Come out of the station (via Exit A2) and there is a Taxi Stand near the Hyatt Embarcadero. A taxi from there to Fisherman's Wharf will be around $10 – $11.  
Travel time:  Actual BART transit time; 35 minutes plus 10 – 15 minutes in a taxi. Plan on approximately 60 to 90 minutes of elapsed time based on wait time to get a train, walk to taxi, and them the taxi time.
While there can be BART delays, BART and taxi may be faster during the 4:30 p.m. – 7:30 p.m. rush hour.  BART itself will start filling up as it gets closer to the Embarcadero.
Check BART schedule on Sunday mornings as BART does not operate early Sunday morning. BART does not operate late night (after midnight).
Shuttles or Shared Ride Vans are available at the DEPARTURE level of each terminal. Here is a list of all the Shuttle Companies. Search the San Francisco Forum for a discussion on Shuttles.  One does not have to book a shuttle until about 10:30 pm at night, but can just catch the next shuttle at the Departure level.  One does need to book a shuttle after 11 p.m. at night.
The average cost of each ride is $16 per person.  The entire shuttle can be rented for $75 to $80. For parties of 4 or more with plenty of luggage, a private shuttle would be the most cost-effective. With minimal luggage,  a taxi or limo would be more convenient. Shuttles wait until they are full and may circle the airport to add passengers before they leave. A shared shuttle will drop off passengers in other parts of the city before it reaches Fisherman's Wharf.  
Travel time:  If the shuttle drops off passengers en route, which very well may be the case, plan on a 60 – 90 minutes or more ride to your hotel with a group of fellow travelers. If there is traffic, add more time.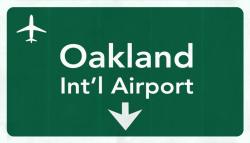 Oakland International Airport (OAK) is 21 miles from Fisherman's Wharf. 
BART provides easy access to the Oakland Airport. Exit the first station in San Francisco (Embarcadero Station), then proceed to street level. On street level, either catch a taxi or ride share (Uber/Lyft) to get to Fisherman's Wharf. The historic F-Line also runs from Market Street & The Ferry Building with direct service to Fisherman's Wharf.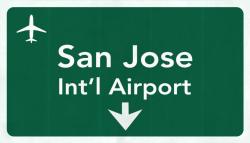 San Jose International Airport (SJC) is 49 miles from Fisherman's Wharf.
If you are arriving at the San Jose International Airport we recommend either a shuttle or a ride share (Uber/Lyft.) Rental cars are also available at San Jose International Airport.