bayside history walk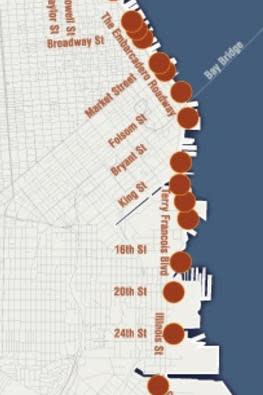 Historic signs, placed along the water's edge of Fisherman's Wharf by the Port of San Francisco, tell the Wharf's history, give insight into today's fishing community, and explain the need to protect the bay.
Although the Bayside History Walk signs are presented numerically, they aren't meant to be walked sequentially. Rather, they are organized by topic, and positioned to give visitors a closer look at what makes Fisherman's Wharf such a unique community.
While we can't reproduce the actual signs on this site, We've collected the text and some of the images from the majority of these historical markers.
North of the Ferry Building
Family Business – Pier 45
Building the Seawall – Pier 43
Luxury to the Tropics – Pier 35
Discarded Treasure – Pier 29
Italy Harbor – Pier 9, north
Business on the Wharf – Pier 9, south
World War II – Pier 7
Bustle of the City – Ferry Building, north
Splendid Survivor – Ferry Building, south​

South of the Ferry Building
Captain Shorey – Rincon Park
Waterfront Railroad – Wharf north of Pier 30
Shipbuilding at Steamboat Point – Pier 40
Tides of Shrimp – Pier 48
Saving the Bay – Pier 50
Whaling on the West Coast – Pier 52
The Bay in Mission Bay – Aguavista Park
The West's Industrial Center – Pier 70
Butchertown – 24th & Illinois Streets
Copra Is Coconut – Cargo Way & Illinois Street
Fill Becomes a Marshland – Heron's Head Park