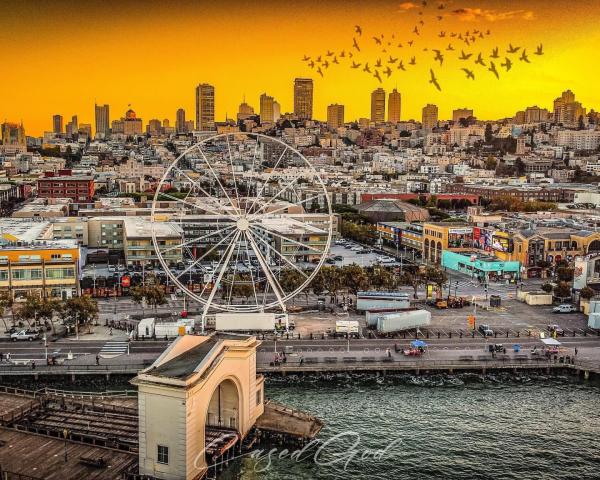 Fisherman's Wharf is cherished for its old-world charm, local fishermen, delectable seafood, and iconic sea lions. But there's a new attraction on the horizon with the SkyStar Fisherman's Wharf Ferris Wheel set to breathe new life into this iconic neighborhood — a visible symbol of San Francisco's continued revitalization efforts. 
Rising 150 feet into the air, the SkyStar Fisherman's Wharf Ferris Wheel offers 360-degree panoramic views of the San Francisco skyline, a sight like no other. Locals and visitors alike will be treated to unparalleled vistas of the city's landmarks, such as the Golden Gate Bridge, Bay Bridge, Alcatraz, Coit Tower, and the entire San Francisco skyline. 
Scheduled to start rolling the week of November 13th, and open daily from 10 AM to 10 PM, the wheel bridges the gap between nostalgia and modernity, making Fisherman's Wharf appealing to a broader audience. 
Featuring 36 climate-controlled gondolas with over 1,000,000 colored LED lights, the wheel promises to light up the San Francisco skies every night. The enclosed gondolas ensure a comfortable experience year-round, shielding riders from the elements. The wheel's spokes will also have lights that can be programmed to different colors for special occasions such as Pride Month, and tributes to sporting events for the San Francisco Giants and Golden State Warriors. 
Priced at $18 per person, with special rates of $12 for seniors (65+) and (children 12 and under), each gondola can accommodate up to six passengers, providing four rotations during a 15-minute experience.
In a neighborhood that saw 11 million unique domestic visitors in 2022, this addition promises to revitalize an already beloved spot, attracting both locals and tourists. Fisherman's Wharf is evolving, proving that falling in love with a touristy spot is perfectly okay. Other activations near the Ferris wheel include tree lightings on Little Embarcadero and Jefferson Street.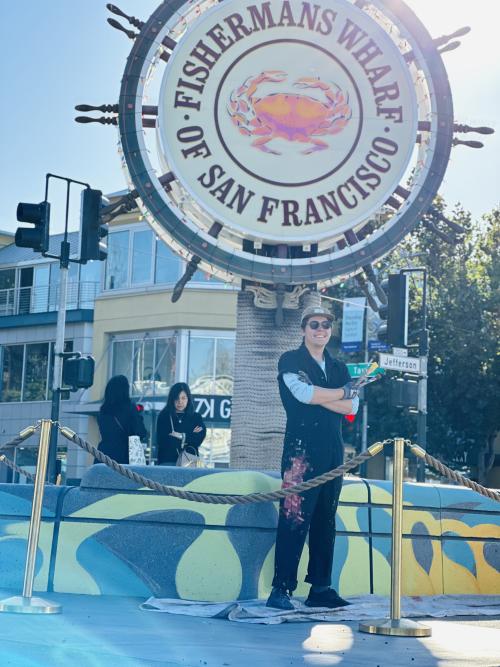 Fisherman's Wharf has undertaken an ambitious effort to revamp its Crab Wheel Plaza, transitioning it from a basic parking lot into a versatile public space. This initiative is part of a broader series of recent upgrades that have also seen the revitalization of two blocks of Jefferson Street, enhancing pedestrian accessibility. The plaza now boasts lively bistro tables, yard games for families to enjoy, and is an inviting concert venue, marking a significant departure from its prior identity as a parking lot. 
This transformation welcomed the arrival of Pier Party at the Wharf, a new concert series that featured 32 performers during the recent summer season, along with a captivating collection of new murals. These murals, skillfully crafted by talented sea wall muralist, Joey Rose, breathe life into the plaza, infusing the area with vibrant marine-themed artwork and instilling a lively atmosphere throughout the entire space.
Expressing his sentiments about the project, Joey Rose, who discovered his passion for public art during his time as a student at California College of the Arts, shared, "I'm honored to be painting at such an iconic destination! This was a perfect opportunity to pay tribute to the abundance of diverse marine life we have here, including kelp forests, sea lions, Dungeness crabs, rockfish, bat rays, leopard sharks and more. I want to thank Fisherman's Wharf and the Port of San Francisco for having me and I hope everyone enjoys these murals as much as I enjoyed painting them."
Hanging Flower Baskets: A Sustainability Pilot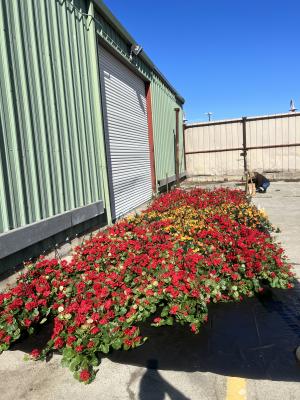 These hanging flower baskets are not your ordinary, high-maintenance variety; they are high-end artificial flower baskets, specially prepared to withstand the challenging conditions presented by sea water, strong winds, heavy rain, intense sun, and pervasive dust. 
Embarking on an exciting journey toward sustainability, Fisherman's Wharf is introducing a pioneering pilot program. The centerpiece of this endeavor involves adorning the vibrant streets of the waterfront with a stunning array of over 150 hanging flower baskets. These baskets, painted in alternating red and orange hues, now grace the west and east sides of Taylor Street, enhancing the plaza's ambiance, and the north and south sides of the Embarcadero, spanning the stretch from Musee Mecanique to the iconic Ferry Arch at Pier 43. 
This bold floral initiative will also be phased out and installed along the entire Jefferson Street thoroughfare and in the inner lagoon, beautifying the area but also conserving water.