Sometimes a weekend getaway is in your backyard! This is especially true if you happen to live in one of the world's most beautiful cities like San Francisco, where practically every nook and cranny of this vibrant, charming metropolis has something to offer.
I recently planned a family-fun visit to the famed Fisherman's Wharf for an off-the-beaten-path adventure filled with sights to see and things to do. Using the Fisherman's WharfSF App, I curated and customized the perfect day by handpicking a collection of places that matched my interests — such as shops, landmarks, restaurants, or entertainment options for the kids.
While the Fisherman's Wharf neighborhood has several classic stops for first-time tourists to check off their bucket list, the area also offers more than meets the eye.
In this blog post, I break down nine of my favorite spots worth visiting on the pier, full of fun and sightings.
Be sure to bring comfortable walking shoes and layer up!
1. AQUATIC PARK PIER (MUNI PIER)
Weather permitting, the Aquatic Park Pier is a great spot to kick off a day of exploring at Fisherman's Wharf because it offers the best views of the Golden Gate Bridge, Alcatraz Island, Ghirardelli Square, Coit Tower, and the San Francisco Bay. You can walk or run out into the water, so the views are unobstructed.

2. BUENA VISTA CAFÉ
A five-minute walk from the Aquatic Park Pier, near the cable car turnaround, you'll find The Buena Vista Café, an iconic San Francisco establishment in the Fisherman's Wharf neighborhood. As you step into this famous café, you are greeted by friendly staff in a beautiful wooden bar. It's the ultimate destination to experience an old-fashioned saloon!
For years, it was a hot spot for the local fishers and dockworkers and those coming to swim at the popular cove of Aquatic Park.
Believe it or not, this legendary café introduced the first Irish Coffee to the United States in 1952 (they have a plaque to prove it) and to this day, both locals and visitors from across the globe start their day here with this delicious, frothy, cream-topped libation. You know what they say…it's always 5 o'clock at the Buena Vista Café!

3. UMBRELLA ALLEY
If you're looking for fun, interactive murals for your Instagram feed, you won't want to miss Umbrella Alley in Fisherman's Wharf.
Nestled between two buildings on Beach Street, Umbrella Alley is one of the coolest alleyways in San Francisco — it's where you'll find the California Dreaming, I Left My Heart in San Francisco, and Greetings from San Francisco murals with fun installations, and brightly colored balloons and umbrellas suspended throughout the entire enclosure.
And it's always a work in progress, with new murals being painted on the regular such as the Summer of Love Monarch Wall featuring a majestic 3D butterfly. It's an explosion of dazzling color with every square inch plastered with paint, even on the ground!
Umbrella Alley is a must on any Fisherman's Wharf itinerary, especially since it's so close to our next stop Real Old Paper.

4. REAL OLD PAPER
If you love vintage posters, Real Old Paper has a collection curated by Bay Area native Andy England that's an absolute must-see! It's one of just two vintage poster shops in all of California and England is thrilled to be representing the industry in Fisherman's Wharf.
Having worked in the vintage poster business for nearly two decades, he has traveled the world building his vast collection of unique artists and genres.
Front and center in the gallery space, your eyes are immediately drawn to a rare, original Parapluie-Revel vintage poster from 1920 created by renowned artist, Leonetto Cappiello.

Highlights from the collection also include rare, original propaganda posters and hundreds of movie posters from the U.S., France, and Italy, dating anywhere from the 1950s through the 1990s.
Movie posters were England's introduction to the world of collecting and he's dedicated an entire table to them at the front of the gallery, where you'll find an original from Hitchcock's Vertigo and even a poster for the Italian release of The Godfather.
One of the reasons San Francisco is what it is today is because it's home to Ghirardelli Chocolate. The famous San Francisco chocolatier has dedicated an entire plaza square to the love of chocolate.
With its mix of fun visitor-centric shops and stylish restaurants, memories are waiting to be made around every corner. You can walk the plaza while enjoying the waterfront views, do some wine tasting, and even a cheese school.
If you have kids in tow, you may have eyes on one destination more than any other: the original Ghirardelli Ice Cream and Chocolate Shop!
It's a popular tourist attraction so the line can be out the door but no worries — it moves fast and it's worth the wait. Soon you'll be wowed by their mouth-watering menu of signature ice cream sundaes and shakes: There's the family-favorite "Earthquake" (eight scoops of ice cream with eight toppings, whipped cream topping, and a sprinkling of diced almonds, cherries, and dark chocolate chips). Or perhaps you want to "Strike It Rich" with a hot fudge butter pecan and vanilla ice cream sundae with butterscotch sauce drizzled throughout? You can also create your own ice cream experience from any of their dozen ice cream flavors and irresistible chocolate treats including chocolate chip cookies, decadent brownies, and dipped strawberries.

Before you go be sure to capture your visit to Ghirardelli Square with a picture under the landmark illuminated Ghirardelli sign.
Did you know that in 2020, the iconic Ghirardelli sign that has stood since 1915 was completely restored with LED lightbulbs and energy-efficient upgrades? Today, it's a symbol of resiliency for small local businesses and a beacon of hope that San Francisco is coming back better than ever.

6. CARTOON ART MUSEUM
The Cartoon Art Museum's mission is "to ignite imaginations and foster the next generation of visual storytellers by celebrating the history of cartoon art, its role in society, and its universal appeal".
Opened to the public at its new Fisherman's Wharf location in 2017, the Cartoon Art Museum on Beach Street is a must-see with a little something for everyone — from comic strips, comic books, and anime to political cartoons, graphic novels, and underground comix.
It is the only museum in the Western United States dedicated to preserving and exhibiting all forms of cartoon art and comics. Its floor-to-ceiling glass exterior offers cartoon enthusiasts stunning views of the San Francisco Bay while wandering through the museum's various exhibits.
The permanent collection features more than 7,000 pieces including original animation cells, comic book pages, sculptures, and an impressive display of Batman movie costumes and props courtesy of Allan Lavigne of The Bronze Armory.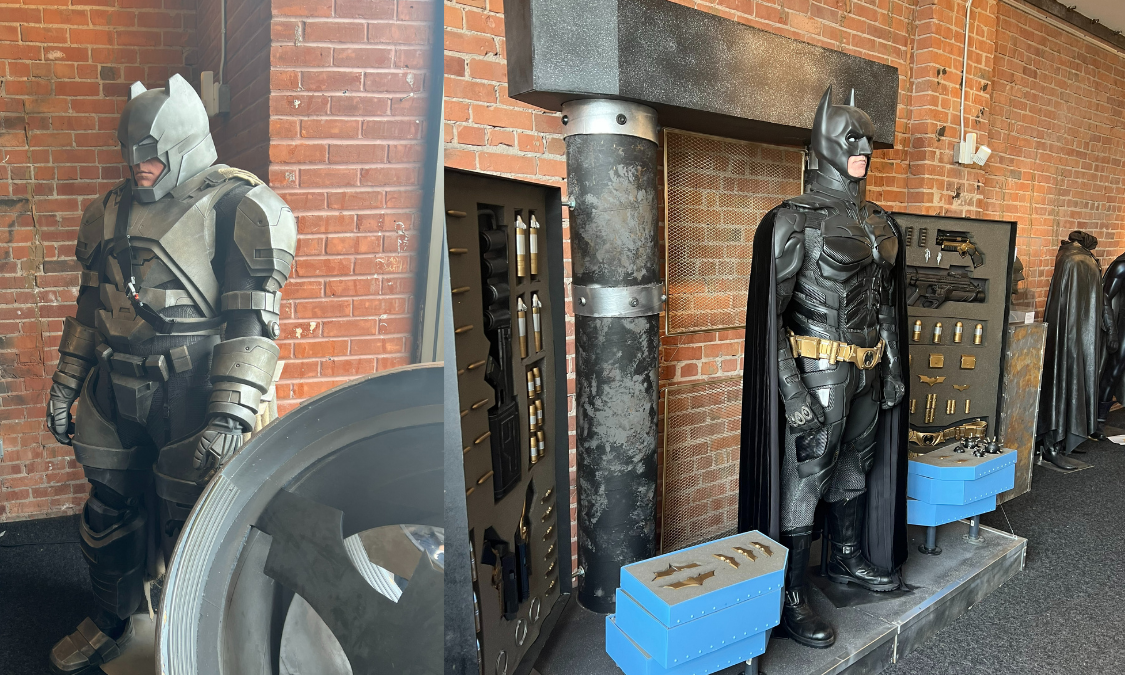 7. ARGONAUT HOTEL
Located in the historic Haslett Warehouse building of Fisherman's Wharf, the Argonaut Hotel, one of San Francisco's most popular boutique hotels, sits within the very shadow of the Golden Gate Bridge! Because of its location being so close to the waterfront, many of its details show off a playful, nautical-inspired theme.

If you're a nautical nut, this hotel is a must-see. The lobby is amply decorated with sea symbols from floor-to-ceiling with a line of nautical striped deckchairs, wooden ship helms embellishing the walls, and surrealistic artwork depicting full-mast vessels flying at sea.
You'll enjoy sitting in the soft crimson armchairs around the open fireplace, lending it a cozy ambiance to warm up.

 
Constructed as a warehouse for the California Fruit Canners Association, packers of the famous Del Monte brand products are showcased in a quaint exhibit to help visitors understand the checkered history of Fisherman's Wharf. Ambling the vintage photos of women that worked in 'The Cannery' shortly after California's Gold Rush era, you begin to understand what made San Francisco a cosmopolitan metropolis with a frontier edge.
8. BLUE MERMAID
The Argonaut Hotel features the stylish, street-side Blue Mermaid restaurant, a popular seafood eatery known for its chowders that boasts a relaxing seaside atmosphere and a large helping of old Gold Rush-era San Francisco ambiance.
Anchoring the menu is an array of fresh seafood classics as well as traditional breakfast fare. From a variety of award-winning clam chowders served in a San Francisco sourdough bread bowl to Dungeness crab cakes, fish/mussels with chips, linguine in a clam sauce, grilled salmon, and cioppino, it's a seafoodie lover's dream.
To complete the picture, be sure to indulge in their killer build-your-own Bloody Mary bar and noteworthy mimosas served with fresh-squeezed juices.

9. FISHERMAN'S WHARF SIGN
A day at Fisherman's Wharf would not be complete without visiting the Fisherman's Wharf sign. Located at the corner of Jefferson and Taylor streets, it was first installed in 1968 and features a giant iconic crab emblazoned on a ship's helm.
Tourists from around the world have come to this landmark to snap pictures of the sign, and a discreet new replacement was installed in 2013 to help ensure the iconic symbol continues to represent the area for decades to come.
For the Holidays, the Fisherman's Wharf sign is decorated with lights and it's a great place to gather and enjoy crab at some of the many restaurants located in the plaza.   

So, what are you waiting for with so many things to see and do? Download the Fisherman's WharfSF App and journey on over to San Francisco and step back in time with a visit to Fisherman's Wharf.