Now is the perfect time of year to experience great whites on the San Francisco Bay! 
Join owner operators Brian Smith and Captain Evan Vera-Martinez and Wine Tasting on the Bay aboard their 45-foot classic yacht, Wine Therapy, the Bay's first and only floating wine bar, located in the heart of Pier 39 near Fisherman's Wharf! 
"San Francisco provides the amazing views, we search the bay area for the best wines, and our boat Wine Therapy brings it all together," said Smith, who's the perfect combination of laid-back beach bum with a Texan kick. "You'll enjoy a wine country experience without ever leaving the city."
Wine Tasting on the Bay offers an unforgettable one-of-a-kind cruise around San Francisco Bay, where guests marvel at the best views of the Golden Gate Bridge, get up close to the infamous Alcatraz, and cruise along the shore past famous landmarks. See attractions such as iconic Ghirardelli Square, Fort Mason, Coit Tower, the historic Ferry Building, and back towards Pier 39. 
Originally named Lulu Kai, Wine Therapy is the perfect-sized craft, allowing everyone to have an intimate journey experiencing San Francisco from unique vantage points while having the opportunity to take iconic photos of the world-famous skyline and wildlife along the route.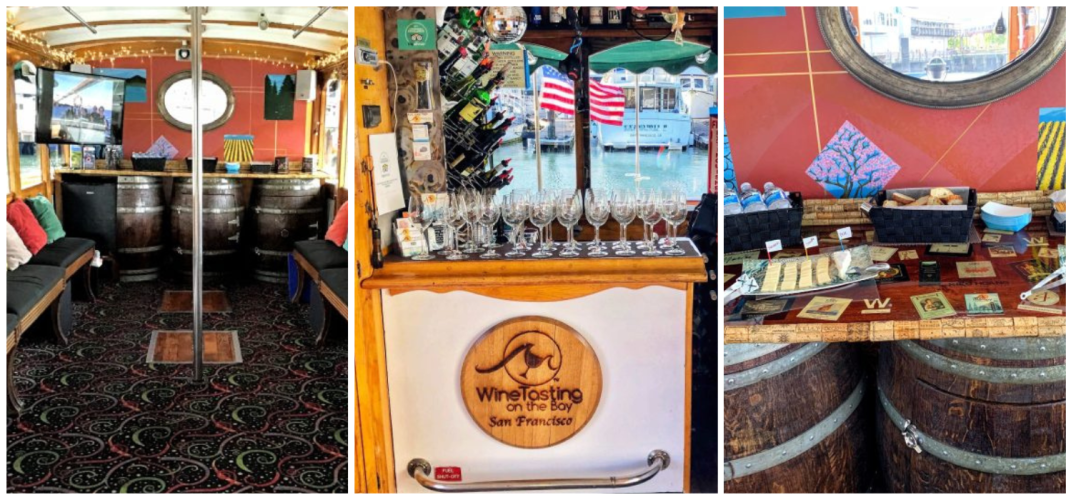 The adventure begins upon arrival when greeted by Brian and Evan at I-Dock in the West Marina, behind Pier 39's famous Fog Harbor Fish House. This is a beautiful place to snap some aesthetic pics with Wine Therapy in the backdrop, a classic 1958 wooden cabin cruiser specially made in the Santa Monica Pier to compete with Disneyland's newest attraction at the time, Jungle Cruise. Once the beginning of the trip is documented, guests are lured into an indoor heated cabin with plush seating and velvet pillows, large windows for amazing views, and a 360-degree walkway around the boat which is perfect for taking photos. There's even mood lighting, wine art, and disco balls. Wait…is that a dance pole in the cabin? Bench seating is also available under the covered deck around the boat, making year-round voyages comfortable and fun.
Iconic tunes from Tony Bennett, Frank Sinatra, and the Beach Boys add to the ambiance, the wine shelves are fully stocked, and a full bar is open for business with non-alcoholic options for those that are ready to be served.
"All aboard," announces Vera-Martinez. "Now folks, get ready to relax, have fun and enjoy the best views of this iconic city, while we take you on a 90-minute excursion around San Francisco Bay."
A small family-owned business, the Wine Tasting on the Bay crew loves meeting new people and sharing San Francisco on their boat with great wines. "We truly appreciate being able to share this one-of-a-kind experience with our guests," adds Vera-Martinez.
Wines are locally curated, making it possible for guests to discover new varietals, especially award-winning Cabernet's from Sunce Winery & Vineyard, and great whites such as Wente Vineyards Morning Fog Chardonnay that take your taste buds on a round-the-bay tour. Souvenir wine glasses are also available to remember the journey and when guests find a wine that they love, they can buy a bottle to take home! 
TEAM BUILDING, BIRTHDAYS, AND MORE!
Wine Tasting on the Bay offers both public and private charters with two tour options:
The Golden Gate Tour is a relaxing daytime journey where guests can see all the landmarks plus some of San Francisco's amazing ocean wildlife. It's perfect for families and small groups ($65 per person and beverages are extra). 
During the Sunset Tour, guests can witness the breathtaking sunset while sipping cocktails, listening to music, watching the sunset disappear behind the Golden Gate Bridge, and seeing the Bay Bridge light up for its nightly show. Perfect for date night ($85 per person and beverage is included).
Come celebrate your special event in style. Wine Tasting on the Bay specializes in small parties and corporate events. It's perfect for Fleet Week celebrations, birthdays, bachelor/bachelorette parties, retirement parties, anniversaries, family reunions, holiday parties, memorial services, and many more. They can even host engagements and intimate wedding ceremonies.