How To Park Smart in Fisherman's Wharf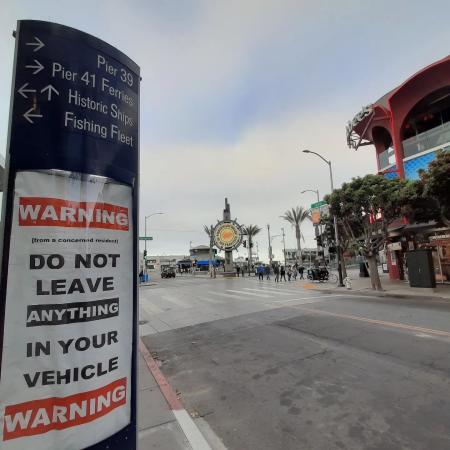 If there's one neighborhood that visitors — both first-timers and many-timers — associate with San Francisco, it's Fisherman's Wharf. It's a historic waterfront with multiple attractions unique to the city that offers some of the best views of the Golden Gate Bridge and the cityscape. 
However, parking in the Wharf can be tricky, especially if you are not familiar with the area or the nuances of San Francisco street parking.
Here are some insider tips from locals who live here!
DO NOT PARK ON THE STREET. Car burglaries remain one of the most prolific crimes in San Francisco, especially in major tourist hubs like Fisherman's Wharf. So, avoid the headache and do not park on the street. Smash and grabs are real and they happen in broad daylight in under 6 seconds! 
DO NOT leave your valuables in the car! Cars parked in heavily visited areas are often targets for theft, as visitors continue to leave their luggage, cash, important paperwork, electronics, medication, and valuables. If you leave valuables in your car, your chances of having them stolen are HIGH!
DO NOT STORE belongings under your seat. Car burglars stake out vehicles first and if they see anything that piques their interest, your car will be a target.
DO NOT REMOVE belongings from your vehicle and place them in your trunk. It's likely that you're being watched.
DON'T OVERPAY. If you are paying more than $5 per hour at a parking meter, you're better off parking in a garage or parking lot.
DO NOT LEAVE YOUR FUR BABIES. Sadly, in the course of a smash-and-grab car burglary, pets can become a casualty.
RESIDENTIAL RESTRICTIONS. A small portion of Fisherman's Wharf is within Residential Parking Zone A, which means you can only park for two hours at a time unless you have a special permit. The signs are not prevalent, so look 100 feet in both directions for any parking signs and check the curb to see if there are any color curb markings. Always check for posted parking and street sweeping times to make sure you don't accidentally park in a restricted zone.
HIGHLY RECOMMENDED: OFF-STREET PARKING IN FISHERMAN'S WHARF
Expiring meters and street parking time limits can be bothersome, especially when you're out having fun with the family, but that's easily avoidable when you can find an affordable Fisherman's Wharf parking garage space or parking lot. 
To accommodate the high demand for parking in Fisherman's Wharf, there are eight parking garages and eight parking lots that offer both self-parking and valet parking services in the area.
There are several well-maintained Fisherman's Wharf parking lots and garages with all modern amenities like camera surveillance, round-the-clock security, etc. (see our top pick below)
GET VALIDATED. If you're visiting a Fisherman's Wharf merchant, ask if they validate for your garage. You can also get parking validation from many restaurants at Fisherman's Wharf and either park for free for the first couple of hours or get a discount at the designated parking lot. 
DON'T GET SHUT OUT. Verify the operating hours of the garage. Some Fisherman's Wharf garages close early.
RESERVE IN ADVANCE. Saturdays are especially busy, so it's wise to pre-book a garage space in advance to guarantee the lowest rates. With more and more people adopting San Francisco parking apps and websites, most parking companies offer special rates and discounts on online reservations. On apps like Way.com, you'll also get perks like flexible cancellation, additional discounts, and pre-paid parking passes to multiple garages. 
PARKING GARAGES & LOTS
#1 LONGSHOREMEN LOT – IMPARK
400 North Point St, San Francisco, CA 94133
(415) 495-390 | Visit Website
This surface parking lot is attended on weekends year-round and weekdays between July and September from 11 AM to 6 PM. This lot is conveniently close to Fisherman's Wharf as well as many neighboring restaurants. No oversized vehicles are allowed including full-size SUVs, buses, and motor homes. The lot is shared with Bay Area Longshoremen in Union Hall and public parking is marked accordingly. Rates are as posted and vary daily.
Beach St &, Stockton St, San Francisco, CA 94133
(415) 981-7437 | Visit Website
PIER 39 has convenient visitor parking in the PIER 39 Garage, located directly across the street from the Entrance Plaza. It is open 24 hours a day, seven days a week, however, there is no overnight parking permitted. Vehicles parked overnight are subject to removal. Weekdays are $10 per hour with a maximum daily rate of $50. Weekends and holidays are $12 per hour with a maximum daily rate of $60. Rates are subject to change. Lost Parking tickets are subject to the maximum daily rate. Parking discounts are available. The PIER 39 Garage clearance is 6 feet, 8 inches high. Motorcoaches may only pick up and drop off in the PIER 39 passenger and taxi loading zone on a space-available basis. Please be aware that tour bus parking is no longer available on Piers 30/32 due to structural problems.
#3 ANCHORAGE SQUARE PARKING
500 Beach St, San Francisco, CA 94133
(415) 398-1900 | Visit Website
The Anchorage Square Parking Garage is a fully automated garage located at 500 Beach Street. The garage is open 24 hours and offers an Electric Vehicle Charging Station. Parking validation is available. Special rates are available for hotel overnight parking, including in/out privileges. The rates are $3 every 15 minutes, $40 daily maximum from November to March, and $50 daily maximum from April to October. They also offer discounted Group Event Parking rates.
#4 WHARF GARAGE – LOT #34 
450 Beach St, San Francisco, CA 94133
(415) 227-0144 | Visit Website
Located in the heart of Fisherman's Wharf, the Wharf Garage parking lot offers secure parking to nearby attractions, specialty stores, and famous seafood restaurants on the waterfront. There are two entrances, one off of Beach Street and the other on Jones Street. Reservations can be made via www.spothero.com or www.parkwhiz.com. Parking rates typically start at $6 for 30 minutes with a $40 daily max until 10 PM. Early bird rates are $12, in by 10 AM and out by 10 PM, Monday through Friday. The overnight rate is $55 for 24 hours and weekends start at $7 for 30 minutes with a $50 daily max until 10 PM and an overnight rate of $55 for 24 hours.
#5 NORTHPOINT CENTER GARAGE – LOT #19 – IMPARK
2450 Mason Street and 350 Bay Street
(415) 227-0114 | Visit Website
This clean and brightly lit parking facility is located at the Northpoint Shopping Center on the north side of Bay Street between Mason Street and Powell Street. There is access to many shopping and dining options within historic Fisherman's Wharf, North Beach, Pier 39, Ghirardelli Square, the Cannery, and the waterfront is just a short walk away. Rates typically start at $12 for one hour with a $36 daily max. Early bird rates are $14, in by 9:30 AM and out by 6 PM, Monday through Friday. Evening/weekend rates are $35 for 24 hours and events are $35.
#5 GHIRARDELLI SQUARE PARKING GARAGE
882-888 Pine Street
The Ghirardelli Square parking garage is open from 6 AM to 2 AM, Monday to Sunday. On-site Ghirardelli Square parking rates typically start at $6 for the first hour with a daily maximum limit of $40. The parking garages near Ghirardelli Square also provide easy access to all main points of interests like Lombard Street and PIER 39.
If all of these lots and garages are full, you can find additional parking options in the wharf here. 
WHAT TO DO IF YOUR CAR IS BURGLARIZED
A first step to reducing the number of auto burglaries is to ensure that our community is well informed. If you are a victim of auto burglary, please call the SFPD Non-emergency number at (415) 553-0123. 
If you can see the suspects: 
DO NOT approach them, as they may be armed. Keep a safe distance and call 911.
If you see cars driving slowly down the street or other suspicious behavior, IMMEDIATELY call SFPD Non-emergency.
If you see people peeking into car windows, IMMEDIATELY call SFPD Emergency at 911.
For crimes in progress (breaking/entering, stolen items in hand) and dangerous situations, IMMEDIATELY call SFPD Emergency 911.
If you are a victim of an auto burglary, here are three ways to file a police report:
1)    Call 3-1-1 or (415) 553-0123
2)    Online at www.sanfranciscopolice.org
3)    Go to Central Police Station to file a report.