sustainability
The FWCBD is proud to showcase Fisherman's Wharf businesses that focus on environmentally friendly and sustainable business practices. As part of the Sustainability Committee's strategic plan, over the next year we encourage FWCBD constituents to take advantage of the resources and services offered by SF Environment. Let's work together to create a more sustainable Fisherman's Wharf!
 
Starting with examples from our Sustainability Committee, we created this page to highlight sustainable businesses, and business practices in our district.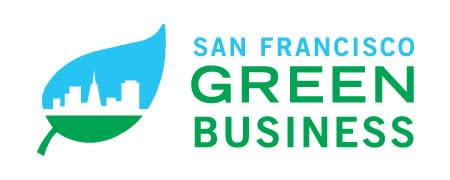 The FWCBD is partnering with the San Francisco Department of the Environment to help our constituents connect to free programs that will save you money, market your company as 'green', and provide sustainable business solutions. 
Certified Green Businesses at Fisherman's Wharf
Aquarium of the Bay, Biscoff Coffee Corner, Chloe Fine Arts, Fog Harbor Fish House, Guttmans and Blaevoet Consulting Engineers, Pier Market Seafood Restaurant, Red and White Fleet, the Sea Lion Center, and Wipeout Bar & Grill are all certified Green Businesses in our district. 
For more information about the program visit: 
http://sfgreenbusiness.org/
SF Energy Watch
Local businesses can lower their operating costs by switching to energy efficient equipment such as LED lighting, or by installing energy saving refrigeration controls and HVAC controls. Energy efficiency is the easiest and cheapest way to lower utility bills while reducing environmental impact.
Professional staff from SF Environment can help you maximize your energy saving opportunities by offering a FREE energy assessment, financial incentives and financing options through the SF Energy Watch program, a partnership between the City of San Francisco and Pacific Gas and Electric Company.  
At Fisherman's Wharf, 47 Retail Outlets Have Received Incentives Through the SF Energy Watch Program Including: 
A Heart for Kids, Aloha Seafood, Anchorage Liquor & Deli, Aquarium of the Bay, Bay City Bike, Best Camera & Electronics, Chloe Fine Arts, Cost Plus World Market, Dennis Rae Fine Art, Denny's, Ess Eff Gift Shop, Fisherman's Pizzeria, French Silk, Gallery 55, Golden Gate Leather, Jack's Cannery Bar, Pizza Zone, Rocky Mountain Chocolate Factory, Route 66, San Francisco Chocolate Store, Sheraton Fisherman's Wharf.
And at PIER 39: 
Alcatraz Gift Shop, Alpaca Fashion, Aquarium of the Bay, Bubba Gump Shrimp Co., Candy Baron, Charms by the Bay, Chocolate Heaven,The Crystal Shop, Eagle Cafe, Fog Harbor Fish House, Hana Zen Japanese Grill, The Hook, Mango's Taqueria & Cantina, Laline, Lefty's San Francisco - The Left Hand Store, Magnetron, Magnets, San Francisco USA, SF Citywear, The SF Keychain Store, Pier 39 Administrative Offices, Pier Market Seafood Restaurant,The Shell Cellar, Spice & Tea Exchange, Swiss Louis Italian & Seafood Restaurant, Wilder West, Urban Western Outfitters.
Call SF Environment's Energy Hotline at (415) 355-3769 or email them at sfenergywatch@sfenvironment.org to request your FREE energy assessment. For more information about this program, visit SFEnergyWatch.org.
The Single-Use Foodware Plastics, Toxics and Litter Reduction Ordinance will reduce plastic pollution by prohibiting the distribution of plastic straws, among other foodware accessories, and providing allowed accessories only upon request. The ordinance will also eliminate toxic…